Features
Tradebox Finance Manager is a Sage Certified desktop application, designed to integrate online marketplaces with Sage 50 Accounts and allow retailers to effectively Manage, Control and Account for their online sales.
Designed as middleware, Tradebox Finance Manager integrates online marketplaces with Sage 50 Accounts allowing data to be passed in both directions.
This enables Sage 50 Accounts to be used to full effect as a back end order management solution providing logistical control over your online sales, stock and purchasing as well as an accountancy package handling VAT liability, financials and profitability reports
Tradebox is a Sage Certified solution. This means that Tradebox has been independently tested by Lionbridge VeriTest, the world's largest and best-known software product testing authority to ensure that the Tradebox software meets the minimum standards for installation and functionality.
All Tradebox subscribers are provided with free technical support from a knowledgeable and experienced UK based team who understand Sage 50 Accounts and the requirements of the online retailer.
Have a look in Marketplaces to find out more about specific marketplace and website integrations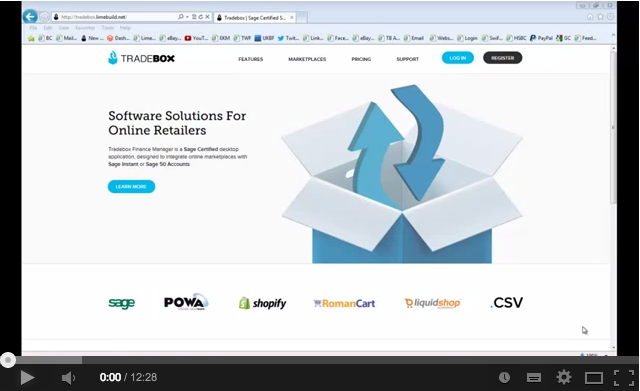 Connections to individual marketplaces are created in Tradebox Finance Manager through an easy to use interactive step through wizard. The wizard guides the user through a series of pages, prompting for information on:
The marketplace to connect with
Connection authorisation (if required)
Sales download criteria
Sage 50 company to link with
Customer creation in Sage 50
Invoice/Order creation in Sage 50
Sales Receipt/Bank information in Sage 50
Download method
Currency of sales
Upon completion of the wizard a 'connection' is created in Tradebox Finance Manager which holds all of the configuration settings for each individual link. This can be amended or fine-tuned at any time. Each connection contains all of the mapping data for customers, products, shipping and payment types which form the relationship between the online data and the corresponding entries in Sage 50 Accounts.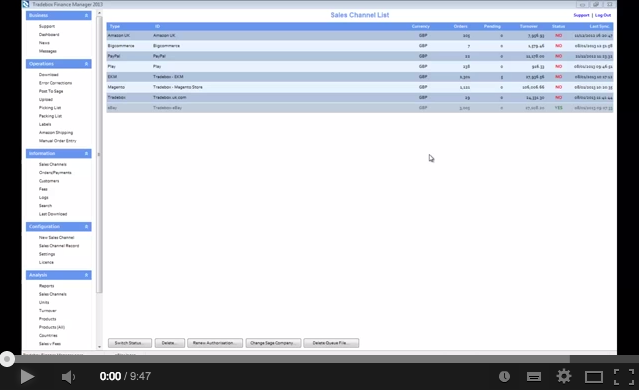 Every online order downloaded by Tradebox is created as an individual invoice or Sales Order in Sage 50 Accounts, reflecting all of the details of the sale. All invoices/orders created in Sage 50 Accounts are 'unposted' enabling the user to identify all outstanding orders. Optimising the invoice/order list in Sage allows the user to rapidly identify the marketplace the order originated on, the customer order number and the shipping method.
This allows the user to rapidly identify which orders are new and need to be picked, packed and shipped. Sage and Tradebox enable the creation of:
Picking lists
Packing lists
Invoices
Address labels
Despatch notes
Once the order has been dispatched, the invoice/order can be updated, identifying it as complete.
Where products are dropshipped, Tradebox can be configured to raise Purchase Orders in Sage to the product supplier for delivery to the buyer.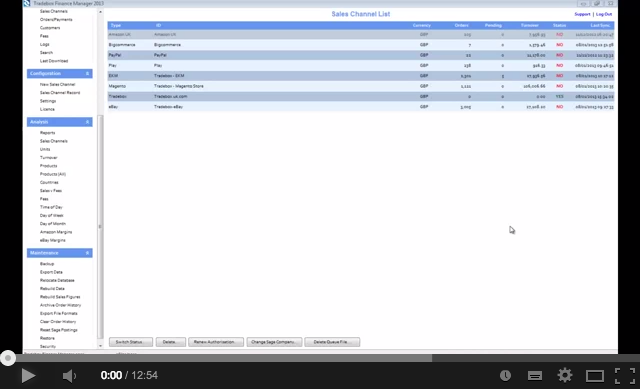 All stock control takes place in Sage 50 Accounts. Tradebox facilitates this by mapping the online SKU contained in the downloaded order to the corresponding Sage Product Code which allows the right product, with the correct quantity, to be picked onto the invoice or order in Sage. Once the invoice/order is updated in Sage the stock level for each product is reduced by the quantity shown on the invoice/order.
Utilising stock control in Sage 50 Accounts Professional enables the creation of packaged products (BOM's), early warnings on low stock levels as well as the creation of Purchase Orders to suppliers. Maintaining stock in Sage 50 Accounts also allows stock purchases to be recorded and product profitability to be calculated.
Where the online SKU and Sage Product Code have been mapped, Tradebox can upload the Sage free stock quantity to the online marketplace/website.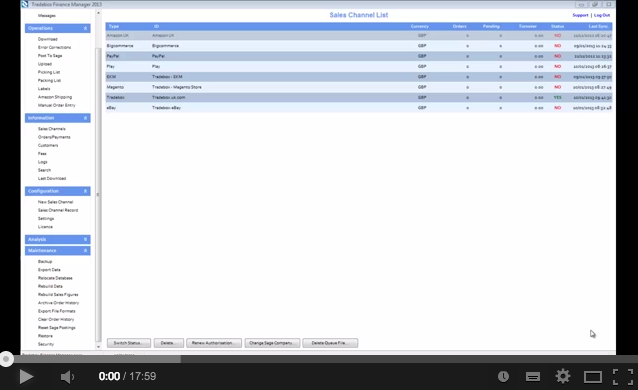 Both Tradebox and Sage can provide the retailer with useful analysis. Tradebox analysis focuses on the sales data the software downloads and can provide easily accessible sales metrics on:
Turnover

Units

Products

Fees

Marketplaces

Time/Days/Weeks/Months

Sales by country
As an accounts package Sage records both income and expenditure providing useful analysis on:
Product profitability
Marketplace profitability
Company profitability
Product performance
Product category performance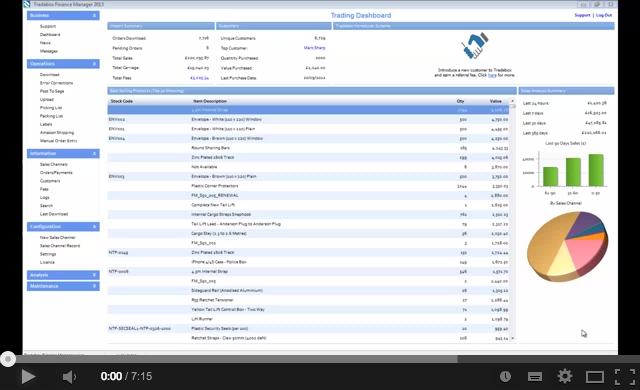 Every unique online order downloaded by Tradebox generates a permanent financial record in Sage 50 Accounts in the form of a comprehensive invoice/order. Each invoice/order contains:
Order number

Billing address details

Delivery address details

Shipping methods

Payment methods

Sales Prices

Quantities

VAT

Customer messages
All values on the Sage invoices created by Tradebox are based upon the prices online. Invoices created in Sage can be allocated to a Sage bank by payment method, so sales receipts are automatically paid into the correct Sage bank upon updating (posting) the invoice.
Sales prices can be reported to the nominal code in the product record (where appropriate) or to a single generic nominal code to represent the marketplace.
VAT is initially calculated at a product level, allowing for mixtures of VAT and non VAT goods, and then finally on the shipping country which takes into account overseas sales.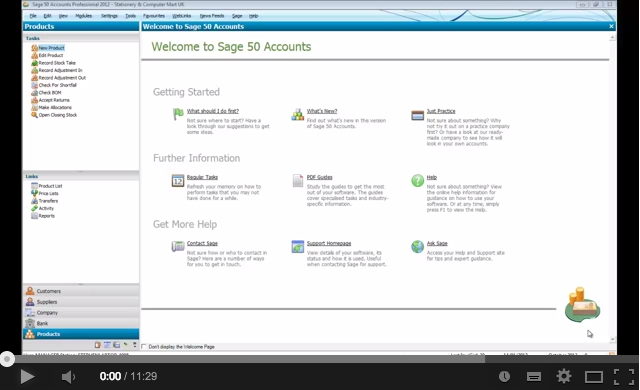 Operating Systems
Tradebox is a client desktop application and is designed and tested to work with all iterations of the following operating systems:
Windows 10
Windows 8
Windows 7
Windows Vista
Whilst Tradebox may work on server operating systems it is not designed or tested against them. Technical support is only available for compatible operating systems.
Sage 50 Accounts
Tradebox works with all iterations of the UK Sage 50 Accounts program and is compatible with the following versions:
Version 2016 (v22)
Version 2015 (v21)
Version 2014 (v20)
Version 2013 (v19)
Version 2012 (v18)
Version 2011 (v17)
Version 2010 (v16)
Version 2009 (v15)
As a Sage Certified Solution provider, Tradebox always endeavour to be compatible with the very latest version of Sage 50 Accounts.
Sage Instant Accounts
Tradebox works with all historic iterations of the UK Sage Instant Accounts program and is compatible with the following versions:
Version 2015 (v21)
Version 2014 (v20)
Version 2013 (v19)
Version 2012 (v18)
Version 2011 (v17)
Version 2010 (v16)
Version 2009 (v15)