Features
Tradebox One is a multi-channel desktop application that enables online retailers to manage their orders, control their stock and account for their online sales.
Tradebox One is a multi-channel desktop application that enables online retailers to manage, control and account for their online sales. The software is an intuitive solution split into straightforward modules that provide immediate access to orders, products, customers, reporting and channels at the touch of a key. The system is underpinned by a service that can be set to run constantly, ensuring orders are automatically processed, stock levels adjusted and passed back to the sales channel.
Tradebox One integrates with a growing list of the leading marketplaces and ecommerce webstores. Connections to multiple channels can be set up in minutes. Once a channel is connected, the software places you in complete control of the information that is downloaded and uploaded. The Channels module provides a constantly updated interface of the status of each channel, the number of orders downloaded, the number of open orders, the up to date turnover and the last time the channel was synchronised. Configuration for each channel is held in the channel record, as are the settings for accounts integration (if required). All setup and configuration are accompanied by guides and videos, and, of course, you can always contact the support desk which is free to all subscribers.
The working screen of Tradebox One is the Order module. This screen provides a constantly updated list of all orders, from all channels, that can be easily filtered to present the orders that need to be actioned. The Order module allows users to print picking & packing lists, invoices and address labels, all of which can be configured to the user's requirements. The Order screen also allows users to export selected orders into pre-defined or bespoke CSV reports.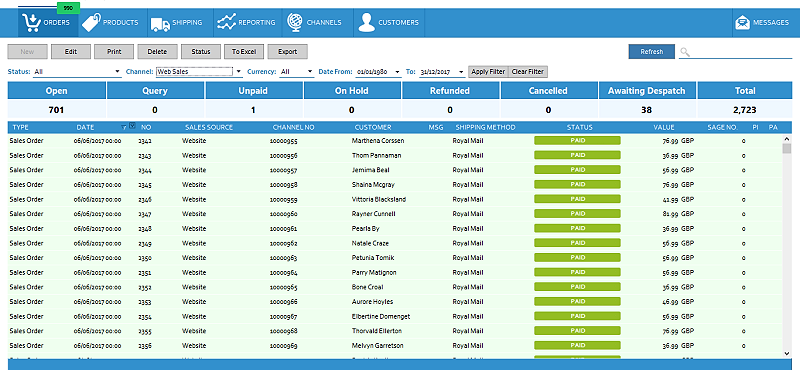 Tradebox One enables the user to carry all products from all channels in one simple screen and understand quantities in stock, sales prices, differing channel SKU's, GTIN's, brands, images, locations, dimensions, weights and product activity. Setting up products in Tradebox One can be done quickly and easily by importing from the online channel, via a CSV file or from an accounts package. Bundle products are also supported. The Product section provides flexibility for upload options, placing the user in control of what data is passed back to the online channel. Stock can be controlled from either Tradebox One or an integrated accounts package.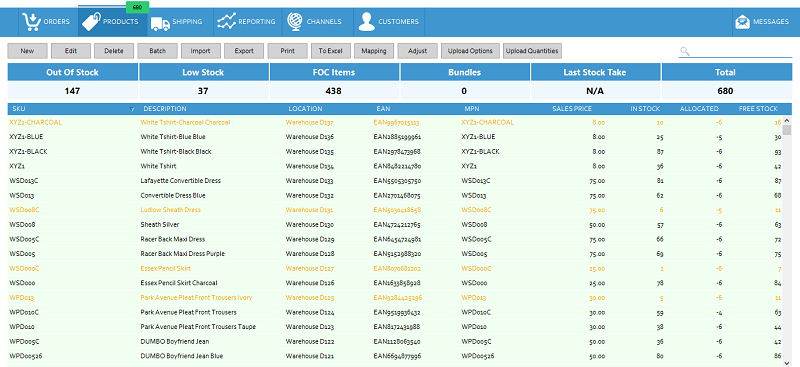 The Reports module focuses on the sales data the software downloads and provides easily accessible sales metrics on turnover, unit sales, products, fees, marketplaces and regions/countries. If an accounts package is integrated metrics can be accessed on product, marketplace and company profitability.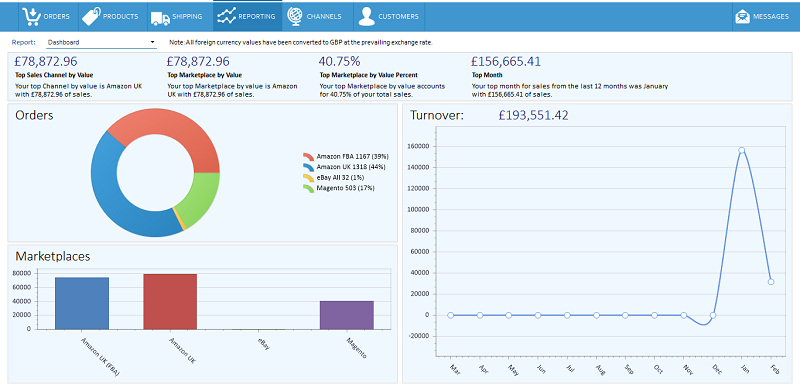 Accounts integration is configured within each channel in Tradebox and is designed to create individual invoices/orders within the chosen accounts package for each online order, automatically calculating and applying the correct VAT based on what is sold and where it is shipped. With over 10 years providing accounts integration, Tradebox One has an array of configuration to meet most users financial integration requirements.
Tradebox One currently supports integration with the UK version of Sage 50 Accounts from version 2009/v15 onwards. Integration with the UK versions of Xero, QuickBooks and Sage One are planned for the near future. For those users that are not ready for an accounts package, Tradebox One can be configured to calculate VAT on all downloaded orders and this data can be easily exported to CSV.
Operating Systems
Tradebox One is a desktop application and is designed to run and work on operating systems using:
Windows 10
Windows 8
Windows 7
Windows Server 2008
Windows Server 2012
Windows Server 2016
Where Tradebox has been networked the program needs to be installed on the same PC as the networked database.
Tradebox One can be installed on Mac's using Parallels or equivalent programs but it is not tested against these environments.
Accounts Integration
Tradebox One is compatible with the UK iteration of Sage 50 Accounts from version 2009 (v15) onwards.
Integration with the UK versions Xero, Quickbooks and Sage One will be available in the near future.